New!
Hollow shafts up to Ø 20 mm, solid shafts up to Ø 14 mm (flange or foot mounting)
Certified for safety applications up to SIL 3 / PL e
High signal quality, HTL, TTL, sin/cos, up to 4096 pulses
Options: safety certified solid or hollow shaft attachment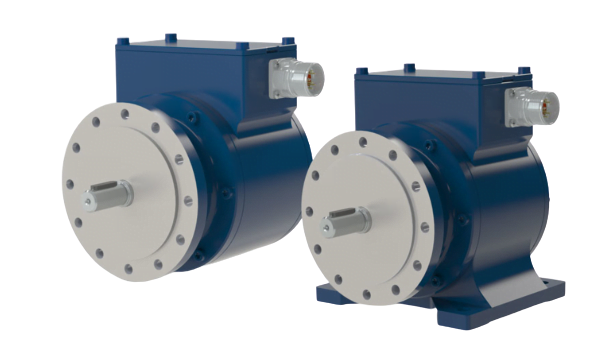 Robust solutions with safety certification
The extremely rugged incremental encoders FG 41 (solid shaft) / FGH 41 (hollow shaft) are specifically designed for safety applications in heavy industry. The SIL certified series offers a high level of safety up to SIL 2 / PL d (position oriented) and SIL 3 / PL e (speed oriented). The encoders are highly resistant to shock and vibration loads, with degree of protection up to IP67. Day offer a high signal quality (HTL, TTL, Sin/Cos) up to 4096 pulses to guarantee exact measurement results even in particularly harsh operating conditions such as in wet areas in rolling mills or sea air.
Specifications
Supply voltage
12-30 VDC
Signal amplitude
-HTL or TTL
-Sin/ Cos
Pulse rate
1024, 2048, 4096 – others on request.
Output signals
0°, 90° and inverted signals
Reference pulse (N) without SIL / PL, with inverted signal
Maximum frequency
-Solid shaft: up to 4000 rpm / HTL and TTL: 100 kHz; Sin/Cos: 500 kHz
-Hollow shaft: up to 3000 rpm / HTL and TTL: 100 kHz; Sin/Cos 500 kHz
Electrical connection
-Terminal strip in a terminal box
-Fixed cable
-12-pole round connector M23
Construction type / Ø shafts
-Solid shaft (B5 / B35): Ø 11 mm or Ø 14 mm
-Hollow shaft: Ø 20 mm with keyway (for shafts up to max. length: 48 mm)
Device temperature range
-40 °C to +85 °C
Degree of protection
Up to IP66 / IP67
Weight
Approx. 3.0 kg
Mechanical options
Additional foot (solid shaft, construction type B35 only)
Special features and certificates
-For speed oriented safety functions SLS, SSR, SSM, SLA, SAR: SIL 3 (DIN EN 61508); PL e / category 3 (DIN EN ISO 13849)
-For position oriented safety functions SDI, SS1, SS2, SOS, SLP, SLI, SCA: SIL 2 (DIN EN 61508); PL d / category 3 (DIN EN ISO 13849)
-Suitable for wet areas in rolling mills
-Saltwater-proof