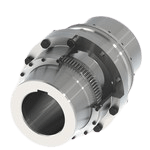 with two-piece housing
High Performance with more Options
The Gear-Coupling GLX is easy to mount / dismantle due to the two-piece housing. At the same time, the distance between the two gears planes is more, allowing more radial compensation.
For standard Gear-Couplings the misalignment can be up to ± 0,75° per each coupling side. Shaft / hub connections can be one or more keyways, shrink fit or spline Connections.

Aditionally, the GLX can be combined with intermediate spacer tubes (GLXz) or intermediate shafts (GLXw).

Furthermore specific options with e.g. with increased hub lenght, special seals or special steel for low temperature applications are available as well.
The Malmedie Gear-Coupling range offers a large number of variants, so that an optimal solution can be found for even difficult and / or critical applications.
ATEX model available