Low Voltage Flat rubber Flexible Cable for Festoon Applications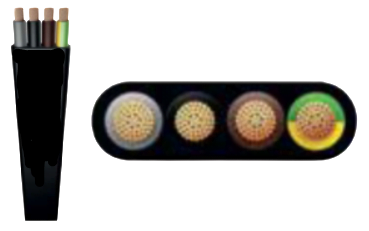 Flexible flat cable designed for mechanical stresses, especially for applications with frequent bending during operation in one plane only.
The cable is used on festoon systems and for connecting movable parts of machine tools, material handling equipment.
For use in wet or dry conditions, outdoors and indoors.
Design Features
Conductors
Special design ensuring higher flexibility. Annealed flexible stranded bare copper conductor:
• Up to 25 mm2 – extra flexible, class 6 acc. to IEC 60228
• Above 35 mm2 – flexible, class 5 to IEC 60228.
Separator
If needed a suitable tape separator between the conductor and insulation.
Circuit identification
Colour coding of power conductors compliant to HD 308, DIN VDE 0293- 308
-J version:
3 – core: Green-yellow, blue, brown
4 – core: Green-yellow, brown, black, grey or green-yellow, blue, brown, black
5 – core: Green-yellow, blue, brown, black, grey
Above 5 cores: Green-yellow, other cores black with white numbering
-O version:
3 – core: Brown, black, grey or blue, brown, black
4 – core: Blue, brown, black, grey
5 – core: Blue, brown, black, grey, black
Above 5 cores: Black with white numbering
Core arrangement
Parallel, for more than 12 cores: parallel bundles
Outer sheath
Special synthetic thermosetting compound, type
5GM3 quality acc. to DIN VDE 0207/21, Black
Features
| | |
| --- | --- |
| Rated voltage | 300/500 V |
| AC test voltage | 2.5 kV |
| Current carrying capacity | DIN VDE 0298-4 |
| Max conductor operating temperature | +90°C |
| Max. conductor temperature during short circuit | +250°C |
| Minimum ambient temperature for fixed installation | -40°C |
| Minimum ambient temperature for mobile installation | -25°C |
| Oil resistance | PN-EN 60811-404, IEC 60811-404 |
| UV resistance | UL 2556, ISO 4892-2 |
| Ozone resistant | PN-ISO 1431-1 |
| Travel speed | 180 m/min |
| Tensile load | 15 N/mm2 |
| Flame propagation | PN-EN 60332-1-2, IEC 60332-1-2 |
Technical Specifications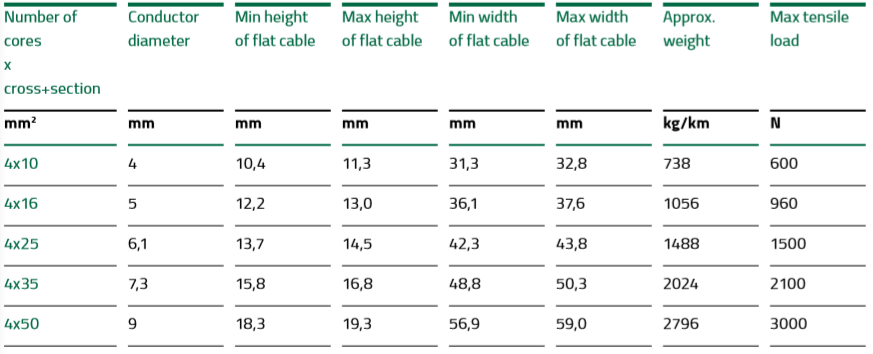 Power Conductor Resistance