MALMEDIE Safety-Elements have been used for more than 30 years as torque limiters in various types of couplings.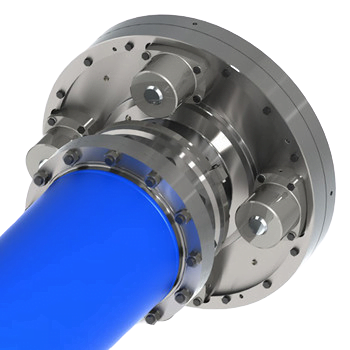 Reliable and efficient
Proven under very difficult application conditions, the function of MALMEDIE Safety-Couplings is characterised by high precision of disengagement recurrences and rapid easy reset.

Thus the drive components of equipment can, on the one hand, be effectively protected from damage due to overload, and on the other hand lost production time can be significantly reduced. Unlike shear pins or shear rings, the safety-elements are not destroyed when disengagement is triggered, and can quickly be reactivated with the simplest tools, such as a hammer.
If needed, two or more safety-elements can be used for form-fitted and tensionally locked connection of two coupling flanges.

Optional automatic re-engagement is availale.
Applications
Rolling Mills
Metallurgical Industry
Mining
Chemical Industry
Container Cranes (SOS)
Advantages
The possible variation in the number and size of the safety elements and of the effective diameter means that the maximum release (shut-off) torque can be selected almost without limit.
The individual safety element cannot be overloadedif correctly chosen.
Exsisting shear-pin couplings can be replaced by MALMEDIE Safety-Couplings.
ATEX model available